Fall Things To Do in Huntsville Muskoka
Best Muskoka Fall Activities
Muskoka is famous for the wonderful Fall colors that decorate it every year, and when picking the right time to visit, many choose the calendar slot for their vacation by the annual Fall color report. The beautiful sights attract visitors every year, and guests at Muskoka Cottage can experience a fantastic range of Fall activities.These include exhilarating walks along hiking trails and musical events. And there's great food along the way, with locally grown and healthy treats.
Visit Lions Lookout in Huntsville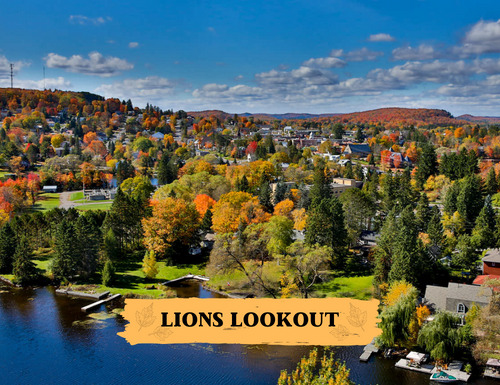 During the Fall season one of the most beautiful places to enjoy the Autumnal hues as the leaves change is Huntsville. Close at hand for those saying in Muskoka Cottage, Lions Lookout is among the best places Muskoka has to offer when it comes to admiring the annual reds, browns, and golds of Fall. And there's an entrancing view of Fairy Lake to see at the same time.
Lions Lookout is in the southern half of Huntsville, near the waterside. The Lions Lookout Trail can be accessed where Forbes Hill Dr and Camp Kitchen Road meet, with the trail following the river to Fairy Lake, before crossing rail tracks and heading uphill. Be aware that while a great view of both Fall colours and the lake awaits hikers, there are steep slopes along the way. Those who prefer a gentler hike (or who want to indulge in longer walks) have plenty more options in the vicinity, as explained below.
Hike in Arrowhead Provincial Park or Algonquin Provincial Park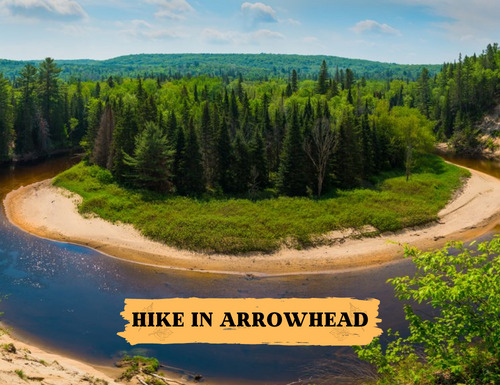 Arrowhead Provincial Park is close to Huntsville, just a short drive north, making it a great (and world famous) place to go hiking in Ontario. Five trails are accessible, and all are considered easy or moderate, with the longest (Beaver Meadow Trail) taking just a couple of hours. The quickest option is Big Bend Lookout, with Stubb's Falls Trail another easy route.
Algonquin Provincial Park is a famous green space that provides numerous trails where visitors can stretch their legs and admire the changing colours in Fall. This is the most popular park in the whole of Ontario thanks to its winning combination of lake, rivers, and wildlife-teeming natural beauty. Find this top Ontario hiking destination by heading east along the highway from Huntsville. Every trail (there are well over a dozen) can be accessed throughout the year and has its own guide booklet that can be found at any of The Friends of Algonquin Park Bookstores. One of the best trails for Fall is Centennial Ridges (which is one of the longer and more undulating of the trails), and wildlife fans might also want to check out Beaver Pond Trail where hikers can catch sight of the eponymous fauna and other animals too. Hikers who are comfortable with substantial changes in elevation might also want to spend three to four hours tackling the Track and Tower trail (which also can be completed with a combination of hiking and biking).
Enjoy a pie (or two) from Farmer's Daughter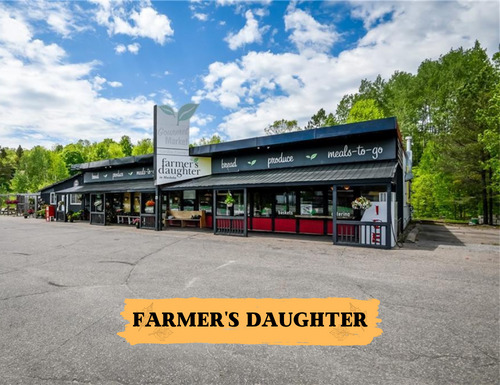 Between strolling along hiking trails and enjoying other Fall activities, it's important to recharge one's batteries (and give aching knees a rest). Farmer's Daughter is one of the best places in Huntsville for gourmet food and cafe delights, to stay healthy and full of energy. Whether seeking the finest local ingredients, snacks, or meals, this culinary destination can sate your appetite.
Farmer's Daughter was founded in 2004 by Michelle Shabatura (who was born and raised on a farm, hence the name). She still grows pesticide-free produce, and many of her own vegetables are sold in store. Farmer's daughter supports local farmers, and is great for locavores as their cooks use only local and natural ingredients. Among the most popular dishes are a variety of delicious pies (such as pumpkin pie, apple pie, and berry pie), and their cinnamon rolls are famous around Muskoka. The dishes include gluten-free options, while the Devils' Own Brownie is just the thing for those with a wicked sweet tooth.
Visit Sugarbush Hill Maple Farm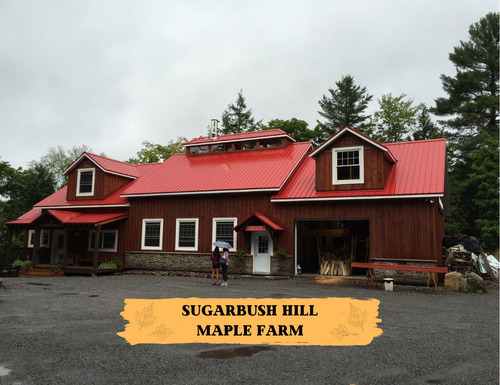 Conveniently located just a few minutes' drive from downtown Huntsville is Sugarbush Hill Maple Farm. It was founded by former Air Canada flight attendants Tom and Pauline, who retired together with a 100 acres dedicated to producing maple syrup. Along the way they visited countless sugarhouses in both the USA and Canada and endured the ups and downs of getting the farm off the ground and living their dream. In addition to various bottle sizes of maple syrup, the farm sells charcuterie boards, candy, recipe books, pies, fudge, and more.
The farm provides tours and tasting sessions, and has hiking trails for visitors who want to take in some fresh air while wandering in the great outdoors. And those who work up an appetite have a wide selection of delicious things to buy. In addition to making tasty delights to tantalise visitors, the farm has a green ethos of sustainability and avoids single use plastic bags. By using so-called 'health spouts' the trees tapped for sap at the farm can recover more quickly.
Visit the Sandhill Nursery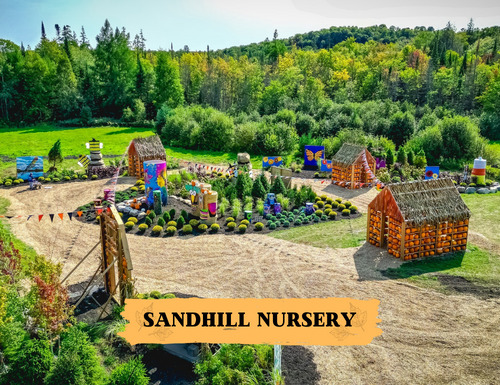 Only a short drive from Muskoka Cottage is local upmarket nursery Sandhill Nursery. Every year the Sandhill Nursery puts on the Fall Festival, which takes place from mid-September to the latter half of October. This festival comes with free admission and is suitable for visitors of all ages, making it a great attraction for just about everyone. Events hosted during the Fall Festival include live music, food trucks, a corn maze, assorted games (such as pie pumpkin bowling and the the human hamster wheel), and flower and art installations. Trick or treaters in town over Halloween can take part in themed entertainment at the end of the Fall Festival. And there are many gifts for kith and kin back home, particularly those with green fingers.
Enjoy the Etwell Concert Series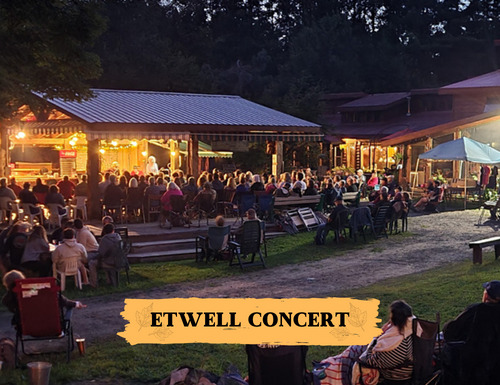 Located just a distance by car from Muskoka Cottage, live outdoor music can be enjoyed at the Etwell Concert Series. A variety of genres are performed during these outdoor concerts, with the most popular being blues, rock, and soul. The event typically occurs on Sundays from June through to October, with admission coming in the form of donations (suggested at $20). For the most part, shows are hosted on Etwell Road by the Spring Family. Protection from the elements is afforded by the open pavilion, with a generator meaning the show will go on even if the local area has an outrage.
Additional information regarding the concert series can be found on their website by clicking here.
Muskoka Cottage is ideally situated for guests to enjoy fun activities in Fall. And it's great for admiring the view of charming Autumnal foliage right outside the house while sipping on a hot cup of tea, or another favorite beverage. Seems like the perfect fall setting, doesn't it?