Best 5 Jet Ski Rentals in Muskoka
Muskoka ranks high on lists of top vacation destinations for Canadians and sees about 2 million visitors annually. It offers expansive wilderness and natural beauty, hiking trails, golfing, fishing, skiing, and snowshoeing, making it a 4-season destination perfect for any type of vacation.
It is also one of Ontario's and Canada's top cottage regions, with beautiful cottages scattered around its numerous lakes.

Muskoka Cottage is one such place, located on Lake Vernon, one of the biggest and most beautiful lakes in Muskoka.  Lake Vernon is a part of the 4 Lake chain (Lake Vernon, Fairy Lake, Peninsula Lake & Mary Lake) which provides access to miles of boating and therefore is any boating enthusiast's dream location.  Guests can also ride the lake from Muskoka Cottage to downtown Huntsville for a delicious lunch or a coffee break.
Renting a jet ski is a great alternative for exploring the lake. There is nothing like riding a jet ski on a warm summer day in Muskoka. The adrenaline rush and beautiful lake views are exhilarating! 
We have narrowed down a list of 5 top jet ski rentals in the area to help you get on the lake.

Ride the Lake Jet Ski Rentals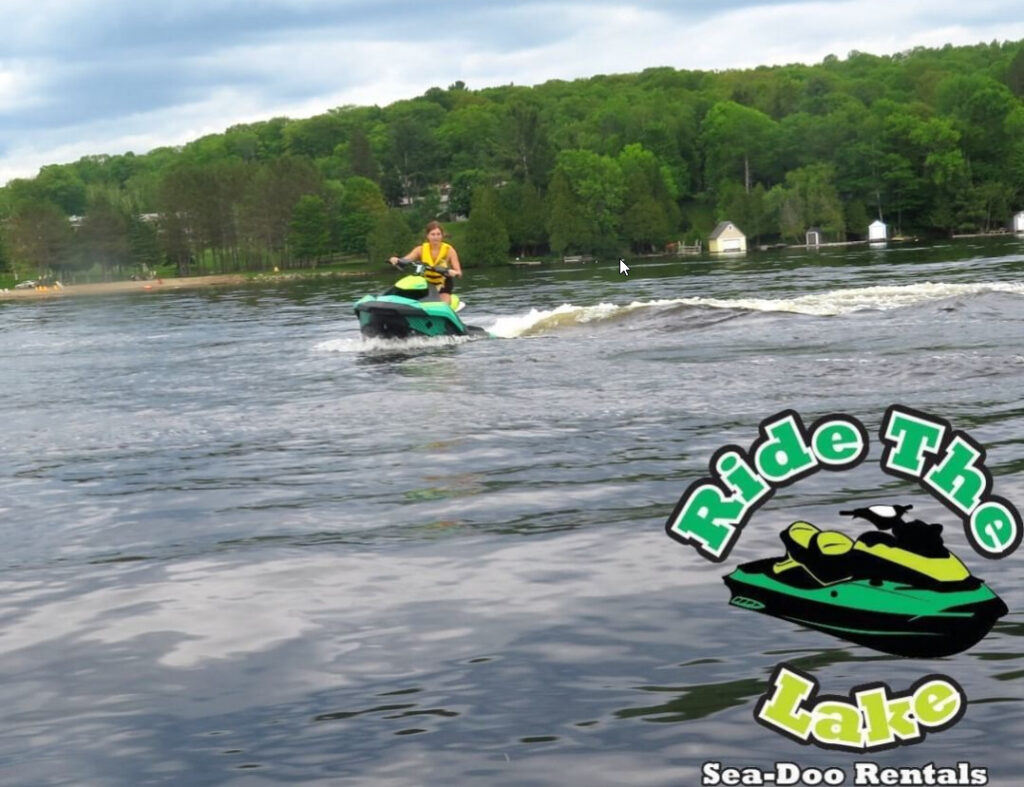 Website: https://www.facebook.com/ridethelake1
Phone: +1 (705) 535-0288
Ride the Lake Jet Ski Rentals is a jet ski rental company based in the Huntsville area. It offers highly professional jet ski rental services at a competitive price point.
The company has numerous watercraft and sea doos available for exploring the local lakefront. Whether you are traveling with your family or a group of friends, Ride the Lake Jet Ski Rentals will provide top-quality services. Depending on your plans, you can arrange for an advance rental of one or more jet skis for a few hours, a whole day or longer.
Huntsville is surrounded by multiple lakes and exquisite scenery and provides a unique opportunity for boating exploration. The company has a choice of top equipment for any water adventure, including the 2021 Spark Trixx, which, performance-wise, is similar to the Yamaha EXR.
If you're a group of 2 or more people, be sure to call and book your sea doos at least several days in advance. You can make the reservation by calling Ride the Lake directly or visiting their Faebook page for more information.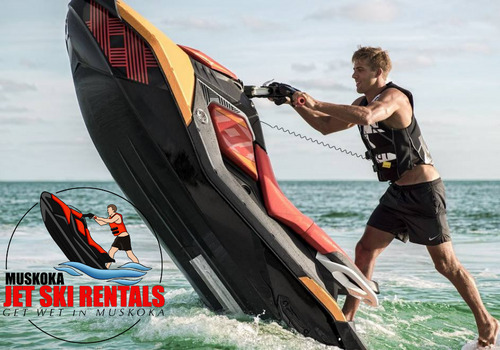 Website: https://muskokajetskirentals.com
Phone number: +1 (705) 380-6857
Muskoka Jet Ski Rentals is a jet ski rental company in Huntsville. It serves the cities of Huntsville, Bracebridge, and Gravenhurst.
Muskoka Jet Ski Rentals is located in Mary Lake Marina. The marina allows a vast boat rental choice that goes beyond jet skis. You can rent everything from fishing and pontoon boats for a more relaxed experience to Glastron speed boats and sea doos supplied by Muskoka Jet Ski Rentals.
Both Muskoka Jet Ski Rentals and Mary Lake Marina are perfectly positioned near several great lakes, including Mary Lake, Lake Vernon, Fairy Lake, Peninsula Lake, and Lake of Bays.
When staying staying at Muskoka Cottage, you can travel between the cottage and Huntsville via Lake Vernon, one of Muskoka's biggest and most scenic lakes. There are a few local marinas on Lake Vernon conveniently located to offer gas and other boating amenities.
At affordable rates, you can experience the thrills of jet skiing and boating on Lake Vernon, Fairy Lake, Peninsula Lake, and Mary Lake – all within a short distance from Huntsville.
Muskoka Jet Ski Rentals delivers sea doos to various locations across Muskoka. Call in advance to book your jet ski , or contact Muskoka Jet Ski Rentals via email or through their website.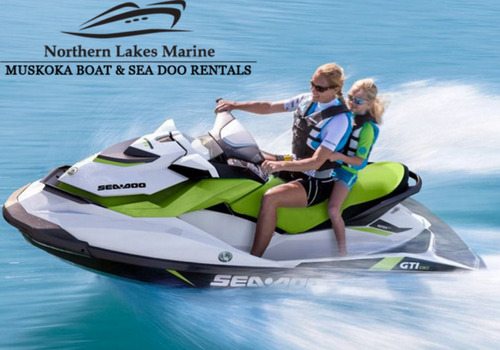 Website: https://northernlakesmarine.com 
Phone number: +1 (705) 706-7096
Northern Lakes Marine is ideal for all thrill lovers that enjoy water sport activities. This company is located two hours north of Toronto, in Gravenhurst Ontario.
Northern Lakes Marine has been in operation since 2002 and has one of Ontario's largest fleets of boats and jet skis.  Their level of customer service is high, and they offer delivery to your location.  They also provide temporary boat licenses with all rentals.
The company offers 5 different models of sea doos for rent and a variety of boats including pontoons and fishing boats.  If you would like to reserve one of their watercrafts, contact them by phone, email or through a form on their website.
Muskoka Powersports and Recreation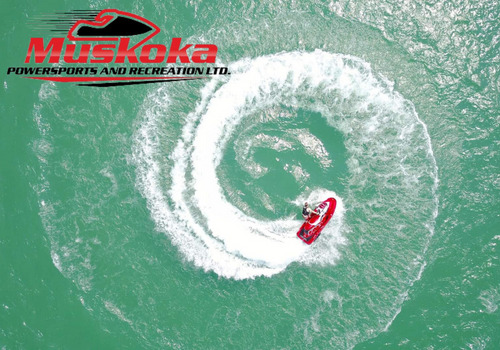 Website: https://muskokapowersportsandrecreation.com/
Phone number: +1-855-SEA-DOO'n (732-3666)
Muskoka Powersports and Recreation provides excellent jet skis, and other watercraft rentals. The company's founder, Robert, has had a preference and enthusiasm for recreational water sports for most of his life. With a knack for mechanical engineering, Robert has helped his company grow to one of Muskoka's leading boat rental services.
Muskoka Powersports And Recreation offers highly professional services to solo adventurers or families looking to explore the beauties of Muskoka on the water.
The company has rental establishments in multiple locations in Muskoka, Georgian Bay, Parry Sound, and Huntsville. It provides highly personalized customer service and a fleet of top-of-the-line watercraft.
Among its inventory are a Speedster 150, Challenger 180 SE sea doo, Yamaha AR210 speedboat, Scarab 165 Jet Boat, and other sea doo models. All rentals are in pristine condition, and you can rent for a day, up to 7 days, or arrange a weekend rental.
Top professionals maintain the jet boats and sea doos which are entirely safe for traditional boating or alternative activities like towing a tube or wakeboarding.  
The sea doos can accommodate up to 3 passengers, while the jet boats are larger and can carry up to 4 people. The jet boats also have a stereo system and can carry water, toys, and other personal belongings.
Visit the Muskoka Powersports and Recreation website for details on availability and pricing. In addition to jet boats and sea doos, Muskoka Powersports also rents other water toys, like stand-up paddleboards, waterboards, and water tubes.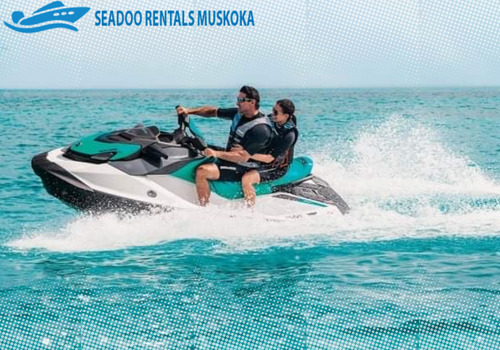 Website: https://seadoorentalsmuskoka.com
Phone number: +1 (833) 337–3379
SeaDooRentals Muskoka is a Canadian Company committed to delivering the latest and greatest in watercraft rentals, and has been offering its services for over 20 years.
If you would like to include a watercraft rental in your  cottage, Sea Doo Rentals will be able to assist with that. Booking with this watercraft rental company provides a wide range of choice of water toys, such as boats, bow riders, sea doos, water ski, and wakeboard boats.
You can contact their customer service for exact offers and pricing, they do have hourly and daily rates. The company policy is that every customer must leave a 25% rental deposit, and a damage deposit is also required for all of the water craft rentals.