Winter Things To Do in Huntsville Muskoka
Best Muskoka Winter Activities
Muskoka (Ontario) is a vacation destination throughout the year, thanks to its abundant attractions and outstanding natural beauty. The local towns are charmingly quaint, thanks to the wintry decoration provided by 130 inches of average annual snowfall. Muskoka offers a broad selection of excellent activities for having fun in the snow that can be experienced when staying at Muskoka Cottage. These range from a relaxing skate around snow-lined trees to downhill skiing, or snowboarding. And all of them are within easy reach for guests spending time at Muskoka Cottage.
Ice Skating Trail at Arrowhead Provincial Park
Ice skating at Arrowhead Provincial Park provides a truly special experience for visitors to Muskoka. Conveniently located only a short drive north from Muskoka Cottage, Arrowhead Provincial Park is one of the best-known skating destinations in the whole of Ontario. For many in the area it has become a bucket list item to skate the trail. Snowy evergreens line the route and make this a very special trail and not something visitors will want to miss.
Opening periods can vary according to conditions and may be from the start of January to mid-March. The popularity of the park means the best times to visit are Sundays and midweek. The ice skating trail was first created back in 2012 and has since become one of the foremost attractions in Muskoka's winter season. The short trail winds through the Muskoka forest, and the picturesque journey draws both families and couples, as well as individual skating enthusiasts. During "Fire and Ice Nights" the trail is illuminated for nocturnal skating in a uniquely evocative experience
Hidden Valley Highlands Ski Resort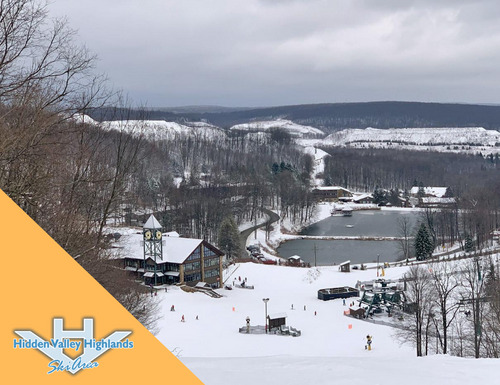 Skiing is readily accessible as the Hidden Valley Highlands Ski Resort is only a short drive from Muskoka Cottage and minutes away from downtown Huntsville.
There are 13 trails offering skiing and snowboarding at the Hidden Valley Highlands Ski Resort, which can be found by heading east along the highway from Huntsville. The open period can vary depending on weather conditions, but in 2022-23 is planned to start from 16 December through to the end of March or early April. Beginners can learn how to ski or snowboard with private lessons at the resort, and children aged 6-12 can have fun at the kids' holiday camps. First timers at the resort are advised to arrive an hour ahead of schedule. This is to ensure there's plenty of time to handle ticketing, renting equipment, and to check in for any lessons. It is also advised to book lesson and rentals online and in advance.
Cross Country Skiing at Arrowhead Provincial Park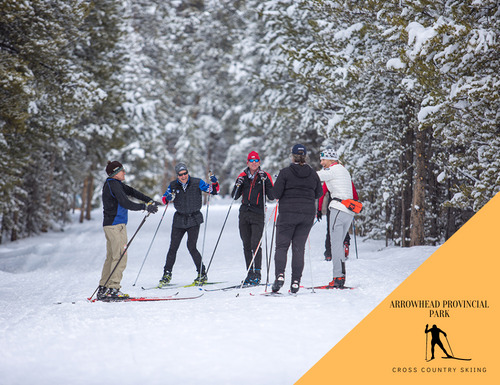 An alternative for skiers to the slopes of Hidden Valley Highlands Ski Resort is to indulge in cross country skiing at Arrowhead Provincial Park. The 33km of groomed ski trails have made this venue a famous cross country skiing destination in Ontario. The trails also vary from beginner to expert levels, making them suitable for newcomers and experienced skiers alike. They come in the form of both classic ski trails and skate ski trails. And the park hosts the annual Muskoka Loppet cross country ski race every January, a race suitable for everyone regardless of age or ability.
Arrowhead Provincial Park is just a short drive from Muskoka Cottage, and the skiing season usually begins in mid-December (contingent upon the weather). Muskoka Cottage is located on Lake Vernon, which freezes around January/February to provide an even closer venue for cross country skiing.

Snowmobiling Trails of Muskoka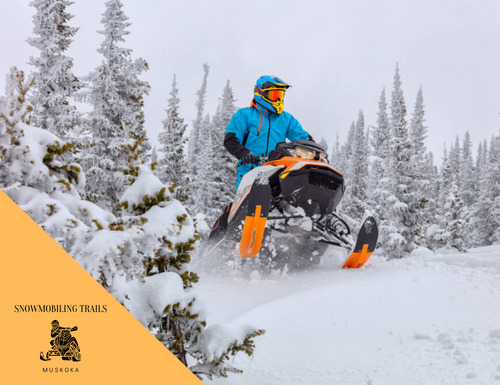 In addition to both cross country and downhill skiing, as well as ice skating, Muskoka is also a popular choice for snowmobiling due to its extensive trail system. And Muskoka Cottage is ideally placed for taking advantage of the many snowmobiling opportunities in the area. Muskoka has more than 1,000km of groomed trails for snowmobiling. Head south from Huntsville on the short drive to Lake Muskoka for the Lake Muskoka Magic Tour (a good starting point is from the Muskoka Wharf staging area in Gravenhurst). A similar distance northeast is the Round Algonquin Park (RAP) Tour, which offers hundreds of kilometres of snowmobile trails suited for intrepid snowmobilers and is the most popular loop in Ontario.
Once again, the location of Muskoka Cottage makes it ideal to experience this activity as Lake Vernon is part of the trail network. Every year it becomes a highway for snowmobiling, and is on the doorstep of Muskoka Cottage, making it perfect for guests.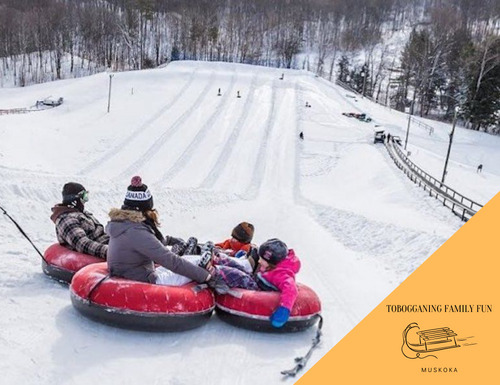 Family fun meets winter with tobogganing in Muskoka. Once again, this can be enjoyed by visiting nearby Arrowhead Provincial Park, and can also be accessed at Kerr Park (located in Bracebridge, a short drive south along the highway from Huntsville). Kerr Park's designated sliding hill is a firm favourite among locals. Similarly, Arrowhead Provincial Park has a hill set aside for tubing (and it's safe for all ages). Both are great options to have fun in the snow with the family.
But if you prefer to stay closer to home, Muskoka Cottage is only a short walk from a local hill perfect for tobogganing. This makes it ideal to stretch your legs, have some fun, and then walk back with no driving required.

Snowshoeing in Muskoka Forests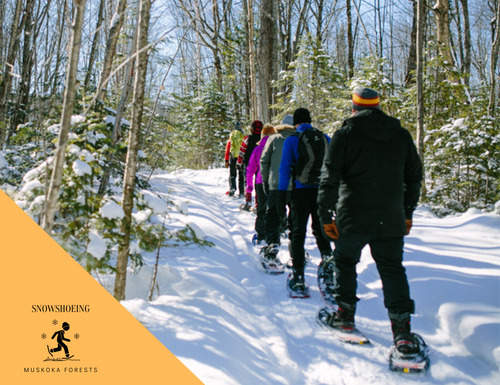 The forests of the Muskoka area are a beautiful setting to explore wearing snowshoes, with many trails weaving their way through the greenery. Arrowhead Provincial Park has over 8km of marked snowshoe trails, with off-trail snowshoeing also possible. Another possibility is heading to Bala (along the highway a little further than Bracebridge) and the Muskoka Lakes Farm & Winery. Five trails are available here, ranging from the beginner-friendly and short Cranberry Trail to the advanced and lengthier Superberry Trail. Slightly closer to Huntsville is Bracebridge, where Liv Outside offers self-guided snowshoeing with no experience required. 
Because Lake Vernon freezes over in winter, it can also become a great place to explore by snowshoeing. And it's eminently accessible, given Muskoka Cottage is located right by the lake.
The crisp winter air and fresh snow offer plenty of opportunities for activities. Afterward, visitors can warm themselves up with a steaming cup of hot chocolate at Affogato Cafe in Huntsville. And there's nothing cozier than curling up by the fireplace in Muskoka Cottage.